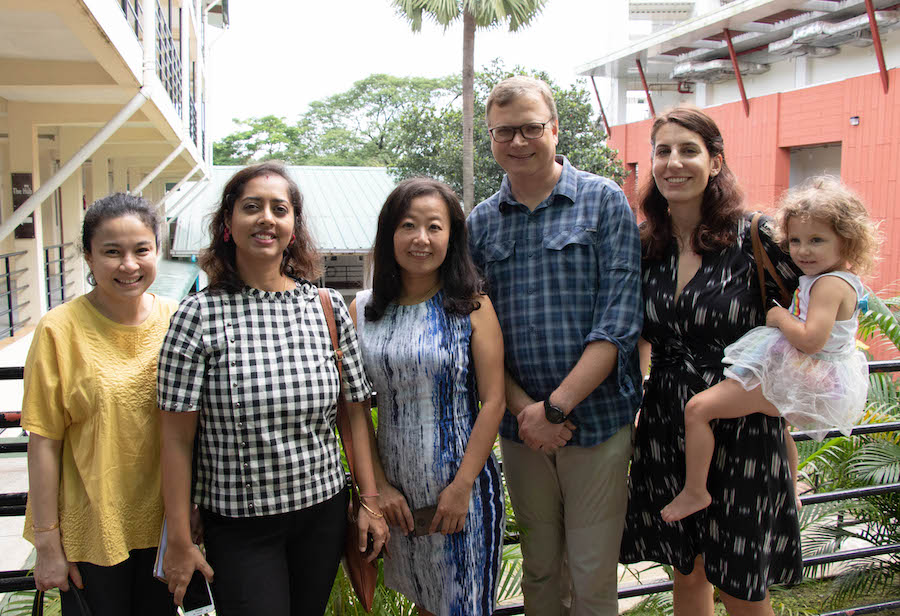 The 2018-19 Parents Association Board.
Community
Parent Association
Operating under new bylaws, a reinvigorated Parent Association (PA) oversaw a successful series of events and lent its support to ISY's burgeoning Service Learning curriculum.
In addition to the Halloween, Chinese New Year and Thingyan celebrations, the PA introduced a Holiday Bazaar to complement the Secondary Winter Concert, in which a variety of vendors provided food, drinks, and holiday gifts to hundreds of parents and students. The PA also sponsored a Teacher Appreciation Lunch in May to thank ISY teachers and staff for their outstanding service to the school.
The PA's main annual event, International Day, was a huge success, raising a significant sum for the PA's ongoing activities. The event featured dozens of country booths, staffed by PA volunteers and designed to enrich students' understanding of the diverse cultures of ISY. The event concluded with a spectacular cultural show.
With a more efficient structure and a mandate to strategically support ISY's major activities, the PA looks forward to many productive years ahead.
Community Education
ISY campus is a hub for our entire community including parents and alumni as well as our students. This year we offered several new community education classes, such as the Myanmar language class, yoga, cooking, and Myanmar Culture. Master Swim attendance increased with our new upgrades at the pool such as a Pace Clock and competition lane lines, and many parents take advantage of the open Fitness Room hours. Finally, our weeknight sports, offering ultimate frisbee, soccer and basketball leagues, have been as popular as ever with up to thirty adults attending per session.
Alumni
ISY Alumni continue to remain an active and vital part of the ISY Community. A highlight of the past year included alumni from the Class of 2011 and Class of 2012 hosting an appreciation breakfast for the custodial, security, and maintenance staff at ISY. In the same spirit, alumni contributed goods or donations for the December Baskets gifted to ISY staff.
With more and more alumni returning and working in Yangon, ISY alumni are active in the community and interested in reconnecting with other alumni as well as the school. Alumni attended school events on campus such as Family Fun Fair and International Day, as well as the ISY Gala for which two alumni-owned companies were sponsors.
The ISY Alumni Facebook group continues to be a platform for alumni news and a connection point with over two hundred members. After graduation, ISY will host an alumni gathering welcoming the most recent 2019 graduates to the ISY Alumni community.
School Health & Safety
ISY's Health, Safety, Security, and Environment department (HSSE) is comprised of the Facilities Maintenance, Housekeeping, Grounds, Security, and Medical sections. All four sections are committed to the ISY mission and goals and tirelessly work behind the scenes to ensure a safe, secure, and healthy learning environment not only for our ISY students but the ISY community as a whole.
The ISY Security team is dedicated to ensuring the safety and security of ISY students, faculty, staff, and visitors. During the 2018-19 school year, the ISY Security team conducted various campus emergency drills. These drills are an essential part of safety training. In addition, the Security department directs and regulates vehicular traffic onto the ISY Campus on a daily basis. In order to make this process safer, ISY Security again hosted driver training for the personal drivers. The ISY Security team members accompany all WWW trips as well as local field trips. ISY Security frequently receives compliments from visitors and parents for their attention to duty and professionalism.
The ISY Medical Unit is committed to the health and wellbeing of ISY students. In addition to routine activities, the ISY Medical Unit also provides support to SEASAC events, campus community events, and the WWW program. The ISY Medical Clinic hosts first aid training for local staff, monitors our food handlers, inspects our snack bar facilities, and monitors the safety of our drinking water. The ISY Medical Unit also proactively monitors local and regional health issues that might impact our community, relaying health notices as appropriate.
The ISY Facilities, Housekeeping, and Groundskeeping team works tirelessly in the background to ensure that the ISY Campus facilities are maintained and child friendly. In addition to their daily duties of routine and emergency maintenance, housekeeping, and grounds maintenance, they also work tirelessly to support all campus events prior to, during, and after the events. The ISY Facilities team also conducts, monitors, and supervises local subcontractors performing facilities work on campus. The entire team strives to ensure that the ISY Campus is a safe and pleasant learning environment.
In preparation for the 2019-20 academic year, HSSE has scheduled a number of summer projects that will enhance the ISY campus both from an aesthetic and safety perspective. These include the following four projects:
Install additional CCTV cameras.
Install a new, safer, more child friendly playground.
Replace A building air conditioners with energy efficient air conditioners that also filter particulate matter and bacteria.
Replace the front entrance decking.